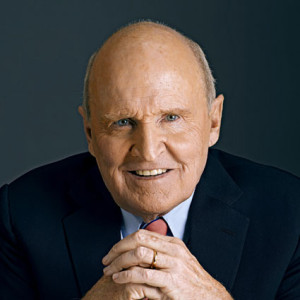 Management guru and former General Electric Co. chief executive Jack Welch is now two years into running his own online MBA program called the Jack Welch Management Institute with his wife Suzy. They spent $2 million for a 12% stake in Chancellor University System LLC in 2009, helping to convert the formerly bankrupt Myers University in Cleveland into an online college with an MBA program called The Jack Welch Institute. Jack and Suzy are active in hiring faculty and teaching in the program. WiredAcademic editor Paul Glader caught up with Welch Tuesday to discuss his school and his view of the digital learning industries.
WA – Tell us about the growth, profile and status of your MBA program?
JW – We have a couple hundred students. They come from all kinds of companies. They come from companies ranging from ESPN, CBS, Boeing, GE, Dupont, a whole raft of them. Microsoft, Merck, Johnson & Johnson. You pick 'em. 70% of our people are paying full rate. 30% are taking loans.
WA – How are retention and graduation rates in the program?
JW – Our persistence rate (those who continue to a second year) has grown from 90% to 95%. Some will get done in 2 years. Some will take a little longer. We've been going now since January of 2010 and we have 200 people. We are working hard it. You don't build these things overnight.
WA – How many faculty members do you have?
JW – We have mostly an adjunct faculty. Many are PhDs. We have 1 or 2 permanent faculty and the rest are adjuncts.
WA – You were planning to do weekly broadcasts for the school. Is that happening?
JW – Yes. I am doing that with the students. We are also doing two-way communication with the students. We have 63 people with certificates. We have a six-week course in leadership courses and another in strategy. Those are not the MBA students. They are from companies who are sending the employees for training.
WA – And is everything online? Or are you using a blended-learning model?
JW – Everything is online. I do a two-way discussion over GoToMeeting.com.
WA – What are you learning about the online education realm?
JW – Obviously, the technology has to get better. We closed the one gap it has, which is the sociability thing. We had to keep improving and pushing the technology so people get a better feeling of classmate friendships. The gap between the quality of education (at an online MBA program) and a traditional MBA is almost exclusively in the sociability part of it. Things like the classroom debate. It isn't as vigorous online as it is in person. We are trying to use GoToMeeting.com and others. We don't have the money to use Cisco technology. As we go down the path, we will get better and better. That is the Achilles heel right now of online education: it is the sociability aspects.
WA – Are you involved with rest of Chancellor University?
JW – No. They got accredited, in March, which was the big breakthrough. We have only been accredited 6 to 7 months.
WA – How much time are you spending on the school?
JW – It varies. Some weeks 30 hours; some weeks 10 hours. I love it. We are getting better at it. We have had all the pains and joys of the start-up. I do the work from Florida or wherever I am.
WA – Are you familiar with Clayton Christensen's new book about online education as a new disruptive model? And do you agree with that?
JW – It is going to totally disrupt education. I don't know whether it is 5 years or 10 years. But the model is so incredible. We can provide an MBA to a working learner. The anecdotal evidence we have is they (our graduates) do extremely well. They get promoted. They go head to head with other schools and do very well. We get a lot of testimonials
WA – How many students do you have to turn away in the admissions process?
JW – Very few. Some essays are incoherent so we don't take 'em. If they get a 2.8 GPA out of 4.0 scale in undergraduate years and write a good essay, they are in.
WA – I'd also like to hear your views on the regulatory debate in Washington about the for-profit colleges?
JW – I haven't participated. I think there is a lot of noise there. I have stayed away from it. We have a school that does not have those issues. We have a school that 70% of people are self funding through their company or themselves. Our persistence rate is very, very high. We don't have unemployed people to speak of. They are working in companies. It's a different model than most of these schools.
WA – And what are you charging for tuition?
JW – $800 per credit hour. So a full MBA is $28,000 to $30,000.
WA – What kind of expansion plans are you considering?
JW – We've got another good year to get under our belt. We've got 20 months under our belt. We love it.
WA – Do you think Google, Apple, Facebook and other large tech firms will get more involved in education technology and digital learning?
JW – I don't know… It's a big undertaking. You have to get a lot of content. They might provide some solutions. Their delivery system can obviously be tailored to handle this stuff very well. We need strong two-way video, multiple way video. We need to get classrooms talking to each other asynchronously. There are a lot of complicated technology issues. You have to get resources. We are nowhere near at the level we want to be at.
WA – What would you like to teach every MBA student?
JW – We are more and more convinced both from educational systems and from running our Jack Welch seminars of the need for better leadership training… It's clear we still don't, in the corporate world, know how to build great teams, evaluate, motivate and reward. All those things. We are boxed in with old-fashioned techniques… The world has gotten faster, more transparent. We are still doing it the same damn way. Paper reviews, etc. We are trying to put things in place, in a fast-paced global world, to build great teams. We are convinced that is the key to winning.
WA – Which CEOs do you admire the most right now?
JW – You obviously have to put Sam Palmisano (from IBM) in that category. He has done an exceptional job at operations and succession planning. It's working nicely. I could go on and on. CEOs are better today than when I was working. They are more global. They are faster. They are more tech-oriented.
WA – What does Steve Jobs' passing mean to the world of management and leadership ideas?
JW – He was one of a kind. After reading his book, I am convinced Steve Jobs was a one of kind guy… a genius with his own method of operation. That obviously worked wonderfully for him. A true genius. There is no question. His basic management would be tough to be adopted by most people. He was unique, rare. Someone asked me to compare myself and Steve Jobs. I said, "Let's start out by saying he had 310 patents and I had one. You can take it from there."
-0-
As a reporter at The Wall Street Journal, Glader broke this story about Jack Welch opening an online university. During the interview this week, Mr. Welch asked us about our site , WiredAcademic. When we explained our focus on education technology, he said WiredAcademic is on the right track. "The right issue is getting better technology." Thanks, Jack! We will keep watching his school's developments.